Wedding is known as a vivaha in Hindu dharma and Nikah in Muslim Dharam and is a very important and main part of our life and we want to look best at the wedding because it's very difficult to find the best lehenga as per your body shape.
Wedding is the most extensive personal ritual an adult Hindu undertakes in his or her life and every Indian celebrates around 10 million weddings every year and they celebrate with extensive decorations, color, music, dance, costumes and rituals and even I also love Indian marriage.
I would like to share my personal with you actually last year my sister got married to a Punjabi boy (we can say that she did love marriage) and she is a little bit healthy so we could not find lehenga as per her body shape and we went to the lots of markets but She could not find then one of my friends gave me a shop number and she said that you can find any bridal lehenga as per your body shape so we went to the Meera bagh's shop (Delhi) and found a beautiful lehenga.
I want to share a pic so that you can see her look:-
I am happy to share a few tips to choose a bridal lehenga as per your body shape
Hourglass Body shape lehenga
If you have Hourglass or X body shape then it will look good on you and because it can give you more eye-catching and this is considered the most ideal shape
Apple Shaped Body lehenga
Every girl has their own body shape and we all are very beautiful. Apple Shaped Body lehenga means when body stores fat around your waist and hips, If you have so I want to prefer Apple Shaped Body lehenga and you will stunning
Pear-Shaped Body lehenga
If you have slim waistline, narrow shoulders and larger hip area in your body so you should go with Pear Shaped Body lehenga and it will give you amazing charm in your wedding
Skinny body Shaped Bridal lehenga
Skinny body Shaped like straight body shape from shoulder to hips so you can take the advantage of your Skinny body Shaped like slim waist with designer lehenga
Bridal lehenga with Muffin Top
Athletic lehenga for Bridal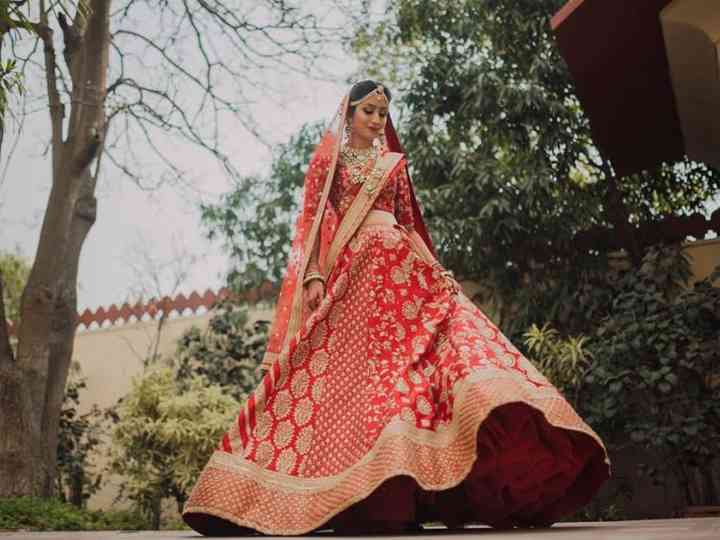 If you have H kind of body shape then you should choose long choli lehenga with eye catching embroidery or noticeable designs
Petite Bridal shaped lehenga
Every girl is very beautiful in their own way and you have to choose right lehenga for your big day so according to me you should pick Vertical kali or Ambi work lehenga conjointly.
broad bridal lehenga

Rectangle Shaped lehenga
Are you ready to look rocking in your wedding so you should pick a high-waisted lehenga with a cropped with this you will look outstanding?
Inverted triangle shaped lehenga
As per your body shape you can pick double flared lehenga will be good for your shape and i think you should go with it
TRAIL CUT shaped LEHENGA
TRAIL CUT LEHENGA for spoon structured body figure and hips are larger than the bust and waist is slightly smaller than the bust so you can pick longer blouse or choli with a deep V cut give you more shine and attractive look
FLARED LEHENGA for Rectangle body shape
FLARED LEHENGA is one of the best choices for Rectangle body shape with long dupatta and high-waist lehenga will good on you
A-LINE LEHENGA
Pick a line lehenga with the latest design and it will be good for who have a pear-shaped body or who have a heavier bottom and get the most breathtaking look
CIRCULAR LEHENGA for Apple-shaped
If you have weight on the upper part of their bodies then CIRCULAR LEHENGA for Apple-shaped because it will cover your fat and Perfect Stylish
DOUBLE FLARED LEHENGA
DOUBLE FLARE LEHENGA specially invented for Triangle figure and you can get a classy look with DOUBLE FLARE LEHENGA
PANEL LENGTH LEHENGA for Oval shape figure
Every human being has a unique body shape hardly similar to another and we were created by god so everything is beautiful in their own way. If you have a heavier tummy and waist than other body parts then you should pick PANEL LENGTH LEHENGA for Oval shape figures or Diamond shape.
Mermaid Lehenga
Mermaid Lehenga is one of the best choices for bridal who has hourglass figure so it will be looked good and catching
Jacket Lehenga
According to my research, Jacket lehenga suits on Apple body Shaped and this is very latest fashion and give you a modern look
Sharara Lehenga
As per my knowledge and research, I want to say that Straight body shapes and you can choose heavy fabrics with royal work. My favorite color is maroon and it suits every girl so you can try this 🙂
I hope you enjoy my content and please give me your feedback
Latest posts by Priya Jatoliya
(see all)